Georgia History Museum (GHM) Website Proposal
Proposal by Kathleen Brennan
About the GHM
The Georgia History Museum will be a private, not-for-profit organization with a physical museum complex slated to open to the public in the fall of 2018. The GHM website will go online in the spring of 2017.

The goals of the GHM include providing engaging educational experiences for visitors, preserving historical artifacts, facilitating historical research, and generally connecting the community to the history of the state of Georgia.

The GHM will provide a variety of services to museum visitors, including guided and self-guided tours of the museum, access to research materials (physical and online), special events, lectures, summer camps and other children's activities, volunteer opportunities, and resources for educators.
GHM Website Design
The GHM website will provide easy access to information about the museum and its exhibits as well as an online archive of documents for research purposes. GHM may partner with local schools and other historical preservation groups and reach out to local PBS news outlets to further awareness of the website and museum. The majority of the site will be constructed using basic text, images, HTML and CSS in order to allow a wide range of users to access important museum information using a wide range of devices and browsers. More in-depth portions of the site may use video, interactive graphics, and other technologies to entice users to visit the museum and learn about Georgia history, such as an online interactive tour. The online document archive component will also require search functionality.
Potential GHM Website Users and Usage:
It is expected that the GHM site will mainly attract users such as educators, parents, tourists, history buffs, and researchers from other institutions. Users may not necessarily have high computer literacy or high-quality web browsing capabilities.

Most site visitors will likely use the site to find museum hours, location, and admission pricing, so this information needs to be easily accessible. Site users will also need to be able to locate information regarding current and future exhibitions, an event schedule for lectures and other special events, membership information, research opportunities, volunteer and donation opportunities, and museum contact information.

The GHM site will need to be tested for usability to ensure that a variety of potential users will be able to easily access necessary information. The website will be tested by the designers, by GHM staff, and by a test group including representatives from the likely user types listed above.
GHM Site Structure
The main page of the GHM site will include highly visible links to important site content categories. These categories include Exhibits, Visitor Information, Events, Research, Educators, Support GHM, About GHM, and Contact GHM. Category links will, when moused over, provide a drop-down menu of subpages. All subpages under these categories will contain the same category links as the main page to allow easy site navigation. The GHM site will use easily readable fonts and a simple, sober color palette in keeping with the professional, somewhat serious nature of the site and its material (dark blue, grays, black, gold highlights). The website will maintain a consistent, coherent design between pages.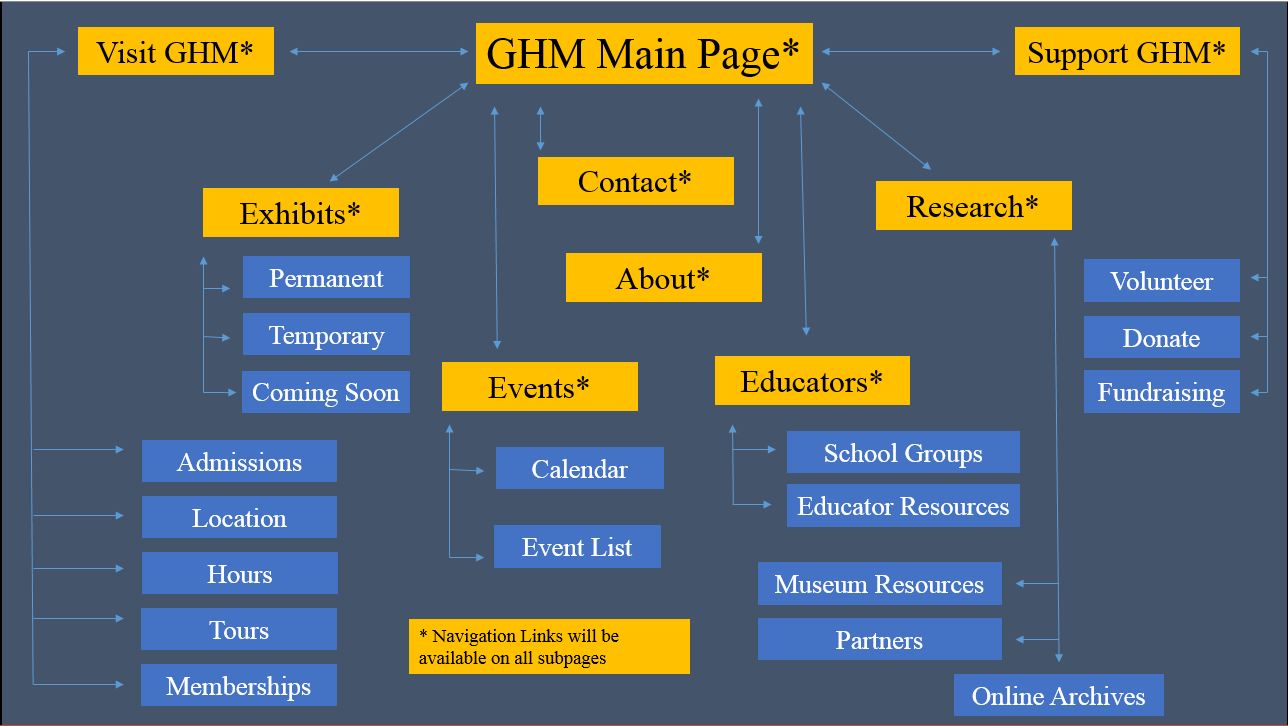 Exhibits
Exhibits in the museum will be divided by time period and subdivided by region. Exhibits will include documents, photographs, illustrations, models, reconstructions, interactive terminals, videos, and more. The Exhibits category of the GHM website will provide images and descriptions of current and future museum exhibits. Permanent exhibits will have interactive video walkthroughs available on the website.
Permanent Exhibits

Natural History
Pre-Columbian/Native Americans
Early European Colonies
Antebellum
Civil War
Reconstruction
Modern

Temporary Exhibits
Upcoming Exhibits
Visitor Information
Most casual users of the website will visit this section to obtain information related to museum visits. This category is, therefore, a priority as far as accessibility.
Admissions (age-based individual pricing, group pricing)
Location (directions, address, map)
Hours (daily hours, closures)
Tours (self-guided, guided, school, other groups)
Memberships
Events
Calendar (monthly)
Special Events (list of upcoming events, such as fundraisers, lectures, etc.)
Research
At the Museum (archival materials available in physical form)
Online Archives (archival materials available in pdf form or as images)
Partners (related organizations)
Educators
School Group Information
Resources
Support GHM
Volunteer
Donate
Fundraising
About GHM
The About GHM category may include information about museum staff and financial transparency for interested parties.
GHM Mission (goals, services)
Work With GHM (careers, internships)
Contact GHM
The Contact GHM page will also contain museum hours and location information, as these are priority items and should be available in several locations.
Phone Numbers
Email
Contact Form
GHM Main Page Mockup
This is the design mockup for the main page/index of the GHM website.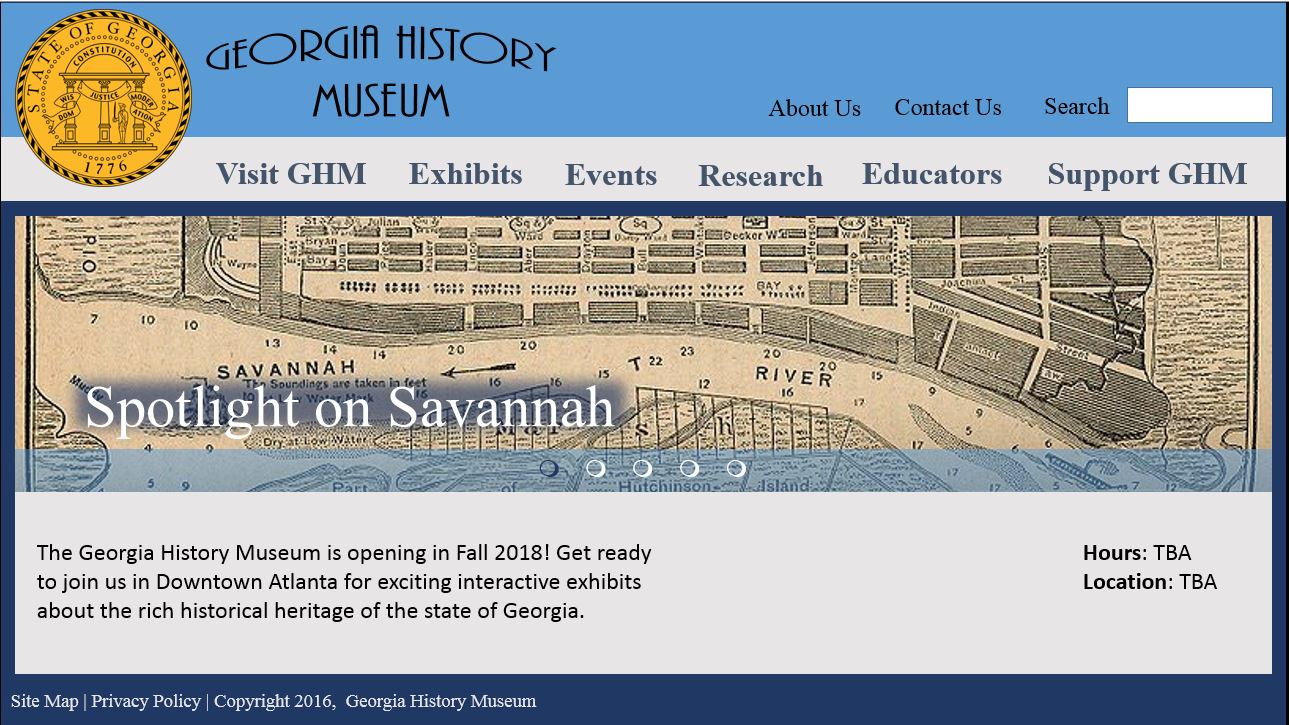 This is the design mockup for the Exhibits main page.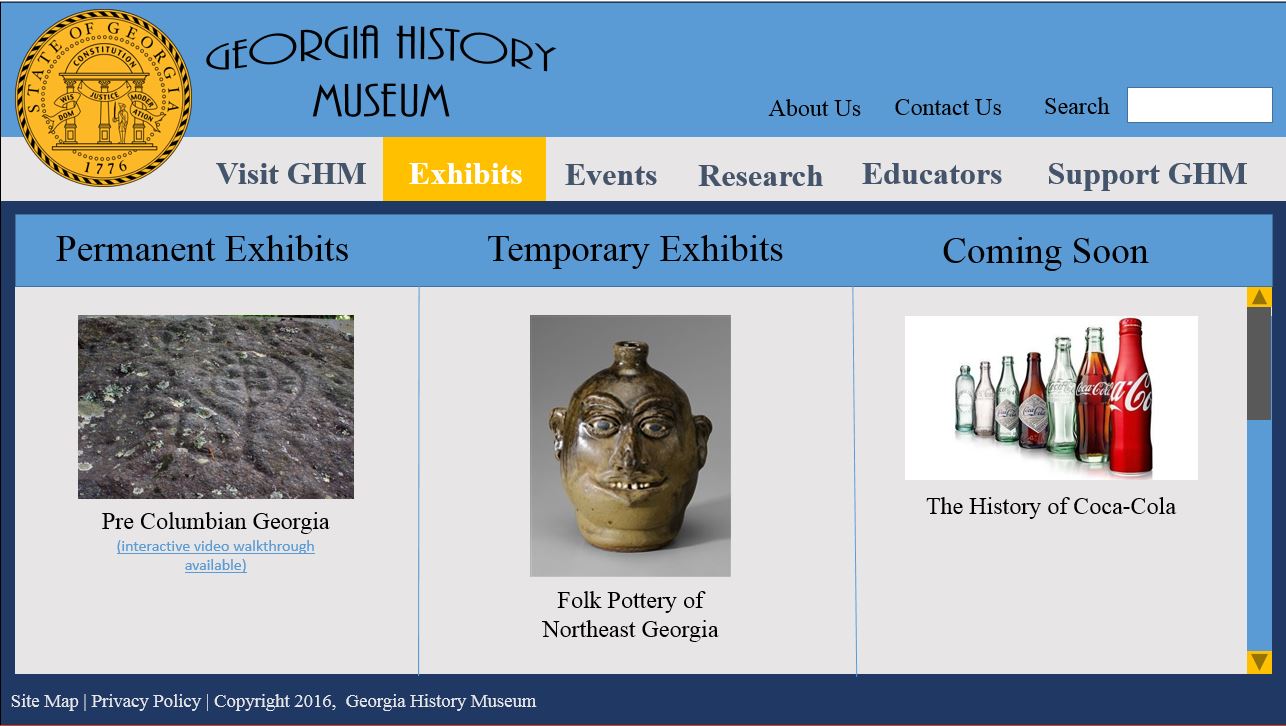 This is the design mockup for the Online Archives subpage of the Research category.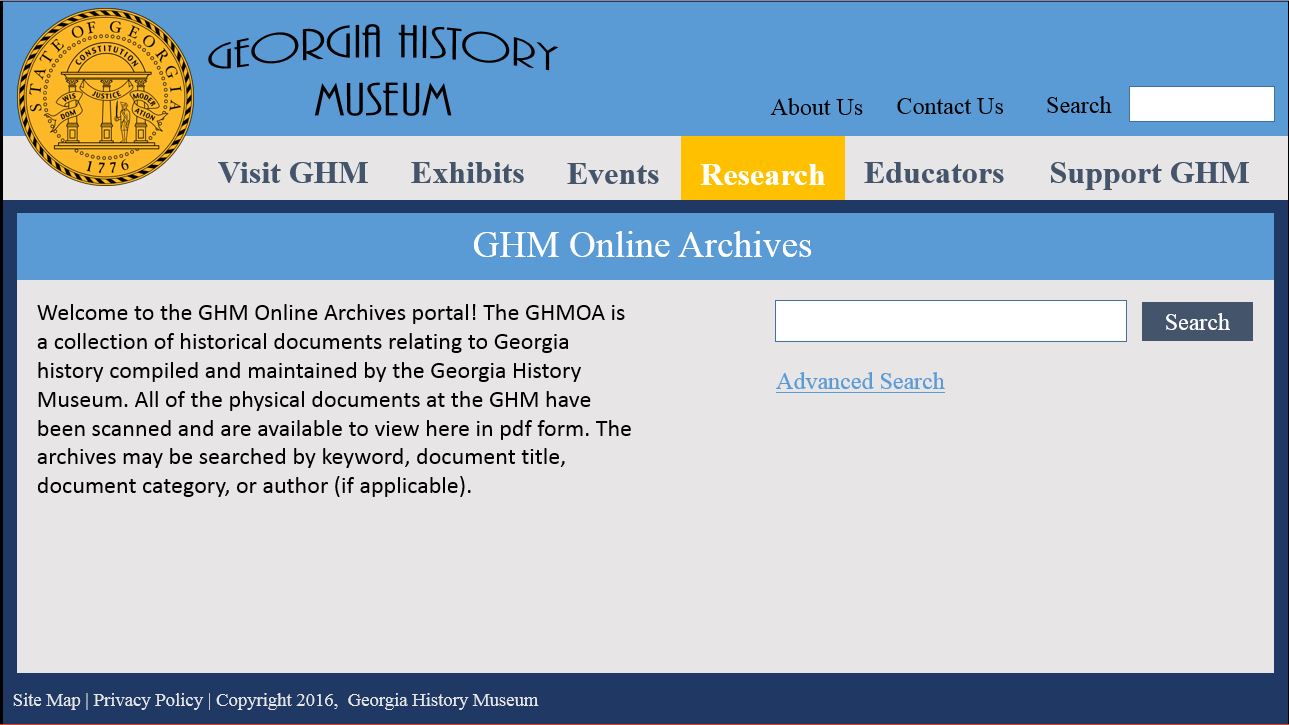 Home